Onze filosofie
We zitten in de ¨Fun¨ Business. We hebben plezier in wat we doen en delen dit met de duikers die ons bezoeken.
Wij promoten verantwoord duiken en hebben respect voor de natuur.
We houden ons aan een ' alleen kijken, niet aanraken en niet voederen'- filosofie en verzoeken
onze klanten dat ook te doen.
We hechten waarde aan de veiligheid van onze klanten – we bezuinigen niet op veiligheid en comfort.
We geven een persoonlijke benadering van onze klanten in kleine groepen. Uw educatie en training is belangrijk voor ons – een brevet helpt je tenslotte niet met het ademen onder water.

We luisteren naar onze klanten. Niet mee eens hoe we iets doen? Laat het ons weten en
we verbeteren het. Tevreden met onze service? Laat het iedereen weten!

Steve & Madge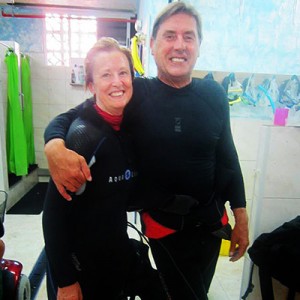 Madge and Steve Knight
Eigenaars
Steve en Madge zijn sinds 2004 de eigenaars van Aqua-Marina, op zoek naar een verandering van hun levensstijl. Dat is ze gelukt! Met veel ervaring in het leiden van bedrijven in het Verenigd Koninkrijk ontdekten ze veel nieuwe uitdagingen in Tenerife! De rol van Madge is vooral administratief, zoals het beantwoorden van alle e-mail, de planning en het betalen van de rekeningen. Steve bemoeit zich met het duiken en is recent geslaagd voor zijn instructeursdiploma. Maar met zijn achtergrond als elektricien en een passie voor de verkoop is hij bezig met alles en iedereen, van het repareren van het licht tot het promoten van de laatste duikuitrusting.
Ines Bergstraesser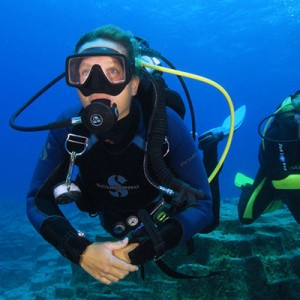 Ines Bergstraesser
Manager, Schipper
Ines is een PADI Instructor sinds 2008, en tegen de tijd dat we op zoek waren naar een nieuwe manager had Ines al ruimschoots bewezen klaar te zijn voor het karwei. Ines is geboren en getogen in Duitsland en heeft tevens ook hier bij de universiteit van La Laguna gestudeerd. Dat houdt in dat ze onze primaire Duitssprekende en Spaanssprekende instructor is. Ines kan alle PADI Open Water-cursussen geven tot en met Tec50. Ines heeft inmiddels twee kinderen, Yana en Noah.
Ben Hawkes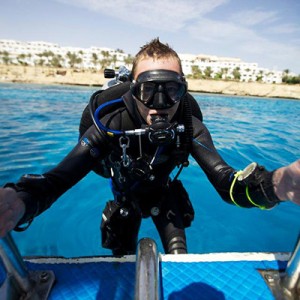 Ben Hawkes
Manager, Instructeur
Ben wilde reeds duiken op zeer jonge leeftijd: hij was een Open Water-duiker op de minimumleeftijd, en op 19 jaar oud al een instructeur met verscheidende jaren ervaring in het buitenland, zoals Egypte, Thailand, Australië en Indonesië.Zijn primaire rol nu is het assisteren van de marketing en het management en tevens het onderhoud van de uitrusting. Ook zien we hem zo nu en dan het water in gaan.
Ray Vonk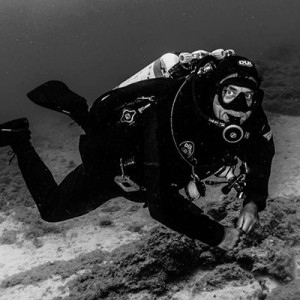 Ray Vonk
Instructeur, Schipper
Ray heeft veel ervaring opgedaan in de duikindustrie sinds hij zijn duikcarrière heeft gestart in 2000. Met meer dan 12000 gelogde duiken en 250 cursussen zal je in goede handen zijn bij Ray. Hij is verzot op duikapparatuur en weet waarover hij praat, dus mocht je twijfelen over welk nieuwe trimjacket je wilt aanschaffenis hij de geknipte persoon om je in de juiste rivhting te wijzen. Met zijn goed gevoel voor humor zal je je in ieder geval niet vervelen wanneer je duikt met Ray.
Greg Delmas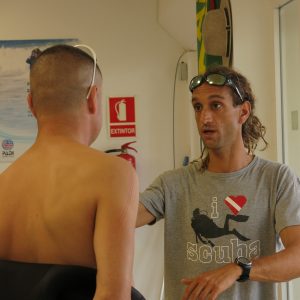 Greg Delmas
Instructeur, Frenchman
Greg verliet z'n leven in Toulouse als elektronisch ingenieur om z'n droom na te jagen: duiken! Sinds dit keerpunt in z'n leven heeft hij de laatste jaren mensen leren duiken in Thailand, de Filipijnen, Costa Rica en Malta. Hij streek neer in Tenerife in 2016 met z'n vrouw en dochter, en heeft ondertussen een zoontje erbij!
Z'n moedertaal is Frans, maar Engels en Spaans kennen geen geheimen voor deze gemotiveerde en enthousiaste waterrat.
Nev McLellan
Nev McLellan
PADI Course Director
Na een periode gewerkt te hebben voor een duikcentrum in Tenerife is hij verhuisd naar Malta om daar een groot duicentrum te managen. Hij neemt momenteel een pauze van het dagelijkse duikleven, hoewel dit hem er niet van weerhoudt keer op keer naar Tenerife terug te keren om onze kandidaat-instructors klaar te stomen tijdens de Instructor Development Course. Z'n grootste passie is het succes van z'n kandidaten, en dit blijkt uit de rigoureuze training tijdens de IDC, maar vooral uit z'n omschakeling naar een nerveuze vaderfiguur tijdens het Instructor Exam.
Nev beheerst het Engels en het Frans, en word geholpen door Staff Instructors van verschillende nationaliteiten tijdens het IDC. Zodoende kunnen we deze training in verschillende talen geven.
Waarom duiken met Aqua-Marina?
Jullie zijn op vakantie, tijd is kostbaar, en je wilt de juiste keuze maken om te duiken in de Canarische Eilanden. Maar waarom zou je voor Aqua-Marina kiezen?
Veiligheid
Veiligheid staat bij ons hoog in het vaandel en om dit te garanderen houden wij ons ten allen tijde aan deze principes: Onze boten zijn te allen tijde bemand door getraind personeel
Elke werknemer is gekwalificeerd in het besturen van de boot en in reddingstechnieken, zuurstoftoediening en eerste hulp. We hebben altijd een zuurstof- en EHBO-koffer op de boot die dagelijks worden gecontroleerd.
We hanteren de maximumdieptelimieten aangeven op het duikbrevet, dit is tevens ook gerelateerd aan de duikverzekering die niet dekt wanneer de duiker dieper duikt dan waarvoor hij of zij getraind is. Wij kunnen meerdere begeleiders beschikbaar stellen indien gewenst, zodat individuele wensen altijd mogelijk zijn
Ons maximumaantal cliënten op 1 duikleider is 6. Het maximaal aantal klanten op de boot zonder werknemers is 9. Onze uitrustingen worden met regelmaat gecontroleerd en gereviseerd volgens de standaarden van de duikindustrie en de lokale wetgeving
Duikervaring
Ons ervaren duikteam kan meerdere Specialties onderrichten, tevens trainen we Divemasters en Instructors en geven we les in technisch duiken. Collectief hebben we meer dan 100 jaar duikervaring en geven we les in 6 Europese talen.
Volg de onderstaande links om alle nieuwste beoordelingen van duiken in Tenerife te bekijken Aqua-Marina
Het Eiland
De Canarische Eilanden hebben meestal een zonnig en stabiel klimaat. De gemiddelde jaarlijkse temperatuur is 25⁰C, met slechts een lichte seizoensvariatie
Het klimaat varieert vaak sterk van het ene deel van het eiland tot het andere. Het noorden van Tenerife kent veel meer regenval, waardoor het vochtiger en bewolkter is dan in het zuiden.
Hoogte speelt ook haar rol – Tenerifes Teide bereikt een hoogte van 3700  meter en krijgt tijdens de wintermaanden vaak een deken van sneeuw wat een opvallend contrasteert met de zon en warmte in de kustgebieden. Het bergachtige landschap zet zich voort onder water, tot een diepte van wel 3500m. Deze spectaculaire en dramatische rotsformaties maken Tenerife tot de toplocatie om te duiken op de Canarische Eilanden.
Mooi meegenomen zijn de dolfijnen en grienden die worden aangetrokken door deze diepe oceaan…
De Teide
Mount Teide is de berg die het eiland omvat. Met z'n top op 3718 meter boven de zeespiegel is hij de hoogste berg van Spanje, en verheft hij het eiland tot hoogste in de hele Atlantische Oceaan en bijna de hele wereld!
Bij metingen vanaf de voet van de berg, onder water, klim je wel 7500 meter naar boven om de top te bereiken, waardoor het de 3e grootste vulkaan ter wereld is. Wees echter niet bevreesd, want de laatste uitbarsting is inmiddels 100 jaar geleden…
Je kan de Teide bereiken met de wagen langs prachtige wegen doorheen het Nationaal Park, dat vooral bebost is met dennenbomen. Voorbij de boomgrens kom je uitgestrekte puimsteenvelden tegen, en gestolde lavastromen die getuigen van de laatste uitbarstingen van de vulkaan.
Activiteiten
Het zuiden van Tenerife is een populaire toeristische bestemming voor Europese reizigers. Dit betekent dat er tal van dingen te doen zijn voor mensen van alle leeftijden met uiteenlopende interesses.
De afgelopen jaren zien we een groeiende trend in avontuurlijke outdoorsporten zoals duiken op de Canarische Eilanden, wandelen, bergbeklimmen, paragliden en fietsen. De combinatie van indrukwekkende bergen en dalen, het perfecte klimaat en tal van gebieden van uitzonderlijke schoonheid maken van Tenerife een uitstekende vakantiebestemming met een oneindige verscheidenheid aan troeven.
Dingen te zien en te doen
Wet ´n´Wild
Wet ´n´Wild
Whale-watching
A visit to Tenerife represents a very special opportunity to view these magnificent mammals in the wild as this is one of the few places in the world with a resident pod of short-finned pilot whales.  Although these whales inhabit a large zone of temperate and tropical waters of the Indian, Atlantic and Pacific Oceans, resident populations are rare, so this opportunity is not to be missed
Certain authorised boats are allowed to take members of the public to view the whales as they rise to the surface for air.  There are a variety of styles of boat from which to choose, departing from the harbours of Puerto Colon and Los Cristianos
Trips can be of 2, 3 or 5 hours duration and may include lunch and a further sightseeing destination such as Los Gigantes or Masca.  All but the 2 hour trips include an option to cool off in the water with a splash-about, swim or snorkel
Boats range from economy to luxury, pirate ship to catamaran, motor boat or yacht.  On the trip you can practice your sailing skills, top up your tan, learn more about the wildlife you are about to observe or choose a trip specifically catering for kids – let us know your preferences and we will advise you accordingly
Submarine Safari
How about this for another rare opportunity? Experience a dive on board a real submarine and see the underwater world of Tenerife without getting wet!  Onboard the submarine you will be allocated your personal seat, right in front of a large viewing port, ensuring a great view of the outside underwater world.  Each view port has its own TV monitor giving you alternative viewing angles, along with a digital display panel giving continuous information about the submarine. Including boarding and disembarking each trip takes an hour
Sailing or cruising
Charter your own boat, with or without skipper (subject to license) for anything from 2 hours to an overnight trip to La Gomera.  Avoid the crowds and have the luxury of a boat to yourself and your family or friends
Siam Park
No description of things to do in Tenerife could possibly be complete without a mention of Siam Park – A huge oriental-themed water park located in Playa de Las Americas, right by the dive centre
Tickets cost €34 no matter where you buy them, but buying in advance means avoiding long queues at the door, so this is definitely recommended (yes, we can do this for you!)
This is a fantastic day out for kids and adults alike – the only exception being families with infants or babies may find that the attractions here can be a little too adventurous for their little ones
Sightseeing
Sightseeing
Mount Teide
Hire a car or book a coach or jeep trip – but whatever you do, don't leave Tenerife without seeing Mount Teide!  At 3,700 metres this spectacular volcano is the highest mountain in Spain.  You can reach approximately 2,300 metres by road, passing from a sub tropical landscape through a 'forest crown', with several dramatic viewing points along the way culminating in a lunar-like desert.  At 2000+ metres you will find many different landscapes and rock formations, and will find it hard to believe you are still on Tenerife.  If you wish to go further, a 10 minute cable car ride takes you from 2,300 metres to 3,500 metres.  From there several paths wind around the mountain allowing views in all directions.  Access to the final 200 metres to the peak is restricted to a maximum number of people per day in order to protect the landscape, but free permits can be requested in advance on-line: www.reservasparquesnacionales.es.  Coach excursions may take a route via the village of Masca on the North West coast, claimed to be the prettiest village in Tenerife
There are sign-posted hiking routes or you can participate in guided walks in the National Park
There is an interesting evening tour of Teide which, after dining in the highest village in Spain (Vilaflor), then watching the sunset accompanied by a glass of champagne, culminates in some star gazing in the company of one of Tenerife's informative and entertaining astrologers.  NB It can be extremely cold at the top, even in summer, and with a significant danger of sunburn, even in winter
La Gomera
After a 35 minute ferry crossing you can explore Tenerife's nearest and more rugged neighbour, by coach or jeep.  The island is only 25km across at its widest but has enough microclimates to fill an entire continent ranging from dry valleys in the south to a verdant forest in the west
You will be taken on a full day round-the-island tour, stopping at various points to hear about the geography, history, culture and folk-lore.  Lunch is included and you will be treated to a demonstration of the ancient whistling language of La Gomera. This is an extremely memorable day out and is one of our most popular excursions
The East of Tenerife
The East of Tenerife
Santa Cruz
This is the capital not only of the island but of the Western province of the Canary Islands, i.e. La Gomera, La Palma and El Hierro (the capital of Gran Canaria, Las Palmas, being responsible for the other islands).  We think it is well worth a visit with its friendly and relaxed atmosphere, great shopping and many historical attractions (it is here that Lord Admiral Nelson lost his arm and the battle of Santa Cruz de Tenerife in 1797)
From the recently re-landscaped Plaza de España you can admire the imposing government buildings of the city and explore the ancient cobbled streets with their shops, bars and restaurants.  Visit the colourful walled fruit and flower market, El Mercado de Nuestra Señora de Africa, the auditorium with its gravity defying architecture or take a relaxing stroll through the beautiful Garcia Sanabria Park
Puerto de la Cruz
Puerto de la Cruz was founded in the 17th century as the major port of the North.  However its lack of natural harbour, the rocky coastline and Atlantic swells meant that it soon lost out to its neighbour, Santa Cruz, on the Northeast coast
It later became a fashionable seaside resort for wealthy Victorian travelers as well as locals.  It remains the resort of choice for those who prefer a more laid back pace than is offered in the South, despite (or perhaps because of) its cooler, wetter climate
We recommend a visit to the tranquil haven of the ancient botanic gardens and the extensive and recently refurbished lido of Lago Martianez as well as a wander through the old town and stroll along the seafront.  Puerto de la Cruz is also home to the famous
La Anaga
The mountain range of La Anaga is in the North Western tip of Tenerife, just North of Santa Cruz and a visit can therefore be easily combined with a visit to Santa Cruz.  If you can handle the twisty roads, the tiny fishing village of Taganana at the Northern end of the mountain range is a treat for nature lovers and walkers
The North Coast
The North Coast
There are several lovely places to visit on or near the North coast which can be combined with a visit to Puerto de la Cruz.  For example, just South of Puerto de la Cruz lies La Orotava.  This historic and picturesque town was founded in the 16th century, its wealth deriving from the fertile agricultural lands of the Orotava Valley
You should make a point of seeing some of the 17th century houses with carved wooden hanging balconies.  Also not to be missed are the spectacular 'hanging' gardens (really gardens on a steep slope). Just wander around the old centre and you'll find it all there
If you happen to be around at the time of the Corpus Christi festival (usually late May) the flower decorations at the Town Hall square are spectacular.  Should you decide to continue from here to Mount Teide this takes you on a very scenic route across the mountain to return to the South
Alternatively, further West along the North coast you will come to the famous Drago (dragon) tree of Icod and the beautiful town of Garachico, once the most important trading city of Tenerife which had to be rebuilt after the eruption of Mount Teide in 1706
The West Coast
The West Coast
Adeje
A drive up the West Coast should start with a detour away from the coast road into the market town of Adeje.  If you just keep going up you will come to the ancient old centre with its lovely architecture, church and plaza with several cafes on a tree-lined street, serving anything from just a coffee to excellent garlic chicken.  Higher even than the church and plaza is the entrance to the famous barranco walk, Barranco del Infierno
Playa de San Juan / Los Gigantes
We really like the pretty seaside town of Playa de San Juan and recommend a stop here for a stroll along the boardwalk.  Next stop, check out Los Gigantes, named after the black basalt rock cliffs that tower over this attractive, hilly resort.  The cliffs reach over 600m high and stretch for more than 11km – easily visible as you are flying into Tenerife, just a few minutes before landing
Masca
North of Los Gigantes, after negotiating a series of hairpin bends, you come finally to the lovely valley and village of Masca, reputed to be the prettiest place on the island.  Despite being included in the itinerary of some of the coach trips to Mount Teide, it is still a charming place to stop for lunch and a little exploration.  From here you can hike down to the coast and catch a boat taxi to Los Gigantes – giving you the opportunity to see this dramatic landscape from all angles
Evening Entertainment
Evening Entertainment
Rock Story
A medley of Abba, Queen and Pink Floyd form the basis of this popular show but this is much more than a tribute show. We have never had any disappointing feedback, even from skeptical teens!
Medieval Night
This is fun for all the family, cheering for your particular Knight on horseback whilst enjoying your medieval banquet all in the setting of Castle (Castillo) San Miguel
Aire
When in Spain, a quality flamenco show is really a must! The famous dance company of Carmen Mota has produced this spectacular show, which includes many styles of dance from tradtional Spanish through to modern styles resulting in 'flamenco fusion'. The show takes place in the Piramides theatre within the Mare Nostrum resort, very near to the dive centre
Active
Active
Trekking
There are a number of half or full day trekking options on Tenerife.  You can go solo or guided, and in the latter case boots, backpack, picnic and transport are provided.  This is an opportunity to see Tenerife at its most tranquil, up close and personal.  One very popular option is to trek down from the picturesque village of Masca to the beach and from there catch a boat taxi to Los Gigantes.  There is also the possibility to trek in the National Park of our neighboring island of La Gomera
Cycling
There are mountain bikes, town bikes and kids bikes available to hire.  Whether you wish to ride along the promenade or tackle an uphill route, this is a very pleasant way to get the wind in your hair
Paragliding
See Tenerife from the air in an exhilarating tandem flight with a qualified and experienced instructor – no experience necessary
Horse Riding
Enjoy the countryside of Tenerife on horseback – suitable for beginners or experienced riders
Karting
With an adult track and a children's track, this can be enjoyed by all the family.  The main circuit is an impressive 1200m long and 8 metres wide.  Competitions can be arranged – great fun if you are here with a group
Quads
For those with a driving license, choose between the Forest Explorer or the Mount Teide Tour.  Without a driver's license, you can still enjoy this fun activity on the off-road rocky trail
Water Sports
Water skiing, parascending, banana boat and jet skis are all available from our local beach.  Jet skis can be anything from a 20 minutes dash-about to a 3 hour safari along the beautiful coastline of the South East of Tenerife
Reserveringen en vragen
Om een ​​reservering te maken of een onderzoek bij ons te doen, alstublieft;
e-mail: info@aqua-marina.com
Telefoon, sms of WhatsApp: (+34) 650 796 464
of stuur een bericht via Facebook
email:
info@aqua-marina.com
Phone/WhatsApp:
Office (ES / EN / DE): (+34) 678 662 670
Greg (FR): (+34) 664 102 818