Learning to dive
Many people who are curious about diving will start with a PADI Discover Scuba Dive. This is a short experience programme, designed to safely introduce you to the wonders of the underwater world.
For most participants, this is only the beginning. After initially trying diving, most people find they want to proceed and learn more! PADI have structured their courses in such a way that it is always very easy to progress. Furthermore, depending on your budget and schedule, you can chose to take little or large steps towards your next qualification.
All PADI courses are modular and standardised, meaning you can start a course and then stop at any point. You can then travel to a completely different location and pick up your training exactly where you left off. The only condition being that once you begin a course, you must continue within 12 months or you forfeit what has already been done.
Statistically speaking, the PADI Open Water Diver course is the most popular dive course in the world! It is fair to say that this is "the way the world learns to dive". Open Water divers are qualified to dive to a maximum depth of 18 metres independent of professional supervision in conditions similar to, or better than, those in which they were trained.
There are a total of 14 modules which are spread out among three sections: knowledge development, confined water training and open water dives.
The course, divided into its various (numbered) modules, looks like this:
Knowledge Development: 1, 2, 3, 4, 5
Confined Water: 1, 2, 3, 4, 5 
Open Water: 1, 2, 3, 4
It usually takes 3 days to complete this course.
PADI Discover Scuba Diving
The PADI Discover Scuba Diving programme gets you started on this course. After successfully completing this dive you'll be registered on PADI's database, meaning that any PADI dive school worldwide can see that you have completed this activity. For 12 months you will have credit for having completed the first module from each of the three sections:
Knowledge Development: 1, 2, 3, 4, 5
Confined Water: 1, 2, 3, 4, 5 
Open Water: 1, 2, 3, 4
Progressing from here to the full Open Water licence can usually be done in 2 days.
Since most people try to fit as much as possible into their holiday – and 2 days is still quite a lot of time to allocate to one activity – PADI have made a condensed version of the Open Water course. This shorter course is called PADI Scuba Diver. The PADI Scuba Diver course is made up of just over half of the content of the full Open Water Diver course:
Knowledge Development: 1, 2, 3, 4, 5
Confined Water: 1, 2, 3, 4, 5 
Open Water: 1, 2, 3, 4
Since there is less training involved, you will not be qualified to do quite so much after this course. PADI Scuba Divers are limited to 12 metres maximum depth and must dive with a PADI Professional, meaning that choice of dive sites is slightly limited.
The PADI Scuba Diver qualification can be easily and quickly upgraded to the full Open Water qualification at any point in the future. This takes 1/1.5 extra days.
Benefits of upgrading to PADI Scuba Diver
The PADI Scuba Diver is a 'certification' course, meaning that upon completion you will be issued a licence to dive. You will never have to repeat what you have already done – this licence will not expire.
If you've already done the Discover Scuba Dive then earning the PADI Scuba Diver qualification takes only 1 day!
Furthermore, whichever course you decide to take, we have another incentive for continuing your training! If you return to Aqua-Marina within 12 months of completing the Discover Scuba Dive, we will discount 100% of the cost of the Discover Scuba from your course fees.
Upgrading from Discover Scuba Diver to PADI Scuba Diver, 1 day – €168*
Upgrading to Discover Scuba Diver to PADI Open Water Diver, 2 days – €308*
Upgrading from PADI Scuba Diver to PADI Open Water Diver, 1 – 1.5 days: €235
*if you completed the Discover Scuba Dive, valued at €112, with Aqua-Marina within 12 months prior to resuming training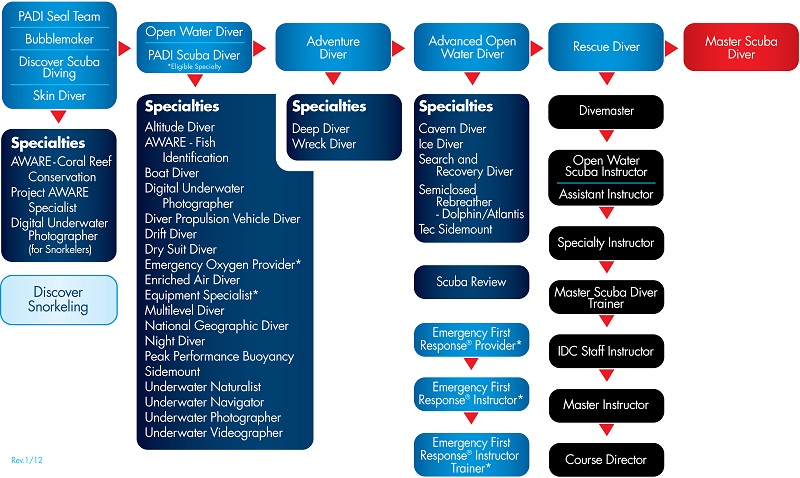 If you'd like to sign up for any of these activities, or if you have any questions, then please email info@aqua-marina.com
We look forward to teaching you to dive very soon!