Backplate and Wing
Why you should make the switch
If you ever ask us for advice on which BCD is best, then our answer is simple – get yourself a backplate and wing!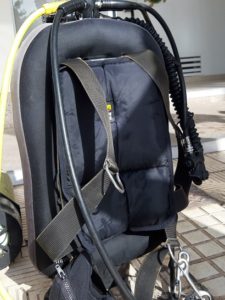 You've no doubt noticed that backplate and wing style BCD's have been rapidly gaining popularity throughout the last few years. It wasn't so long ago that mine might be the only wing on the dive boat. These days, it is quite common to see that more than half the divers on the boat are using a wing.
So why are they so good?
There are several advantages of the backplate and wing set-up – let's have a look at some of them:
1 – It is more streamlined
A traditional jacket style BCD is a cumbersome affair – when fully inflated, there is a large bladder not only protruding behind the diver's back, but under their arms as well. Typically there will be pockets on the sides underneath the diver's arms too. If these pockets have a few items in them, then the fully inflated jacket is simply huge.
In contrast, with a wing the diver's body is almost completely free from equipment – and certainly free from bulk. Only a single length of webbing creates shoulder straps and a waist strap, with an optional addition of a crotch strap. This simplicity leaves the diver much more streamlined in the water, reducing drag and therefore reducing the energy required to move.
2 – It is a modular system
Each of the component parts of the wing are completely separate from each other. This means that you can select which characteristics are most appropriate for the dives you'll make, and choose the parts which are best for you.
If you might dive in a variety of locations or make a mix of recreational and technical diving, for example, then you can buy more than one bladder or backplate, and switch your unit around day by day to use the best combination of kit for your dive plan.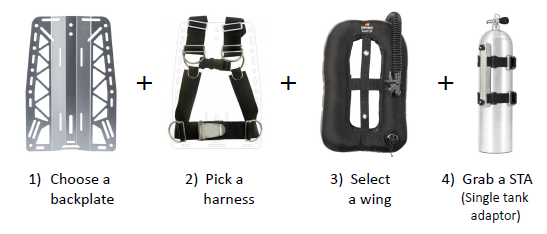 3 – You'll save money in the long run
If you invest in a quality model initially, then a complete wing will typically be a bit more expensive than a standard BCD. If you maintain it with care, then each part of your wing will last many years. When one part does eventually wear out then you only need to replace that part. Over a lifetime of diving, this not only becomes significantly cheaper than buying new BCD's every few years, but also enables you to collect different parts with different characteristics, enabling you more flexibility to adapt your unit to your current needs.
4 – One size fits all
In almost all cases, there is no Small, Medium and Large when it comes to wings – the fitting around your body comes exclusively from the length of the webbing. This can be easily adapted to enable to the harness to fit any body shape. The only consideration then becomes making sue that you use a bladder which has sufficient lift for your body size and the weight you'll be carrying with you on the dive.
5 – Built in weight
There is some variation in the backplates – typically you can choose a heavy one or a light one – the heavy one, made from stainless steel, will usually weigh somewhere in the region of 3Kg. The light one, either made from aluminium or from a much smaller piece of stainless steel, will usually weigh somewhere closer to 500g.
The main advantage of the lighter backplate is simply that it is more friendly on your airline weight allowance.
Heavy backplates, on the other hand, are much nicer to dive with. This is because any extra weight from the backplate is weight which can be removed from your weight-belt. Furthermore, having a portion of your weight distributed over your entire back is not only more comfortable, but changes your centre of gravity, making it much easier to find a nice trim in the water.
Try before you buy!
If you are curious to see how it feels diving in a wing then just let us know – we have a selection of wings here ready for our guests to take out diving for the day. Naturally, when you are convinced of their superiority, we're here to advise you on exactly which parts are going to be most appropriate for you, and to help you getting it perfectly fitted for use.
Below are some components available to buy at Aqua-Marina. This is not an exhaustive list – there are more choices and combination options available – this is just a small list of the most common parts to give you an idea.