PADI TecRec Centre
Many of our regular divers will know that here at Aqua-Marina we have been teaching technical diving in Tenerife for over 10 years already. We recently decided to receive some recognition for this, and so applied to PADI for the TecRec Centre certification.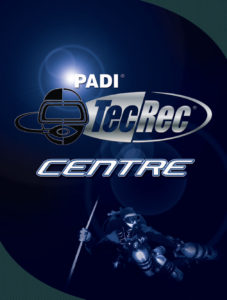 PADI Describe the necessary pre-requisites for this award as follows:
The PADI TecRec Center rating is awarded to PADI Dive Centers and Resorts that teach PADI technical diving courses. With a PADI TecRec Instructor on staff, these dive businesses can offer technical open-circuit training, tec sidemount courses or tec programs for Closed-Circuit Rebreather (CCR) diving.
At Aqua-Marina we have three full time Technical diving Instructors, teaching Tec 40, Tec 45, Tec 50 and Tec Sidemount. We have plans to begin issuing Trimix certifications in the near future (watch this space!)
What is technical diving?
Technical diving can be described most simply as diving in an area which does not allow direct ascent to the surface. This could be because there is a physical barrier, such as a cave or wreck; or the barrier could be physiological. Technical divers typically dive deeper and stay for longer than recreational divers. This means that they accumulate much more inert gas into their bodies, and so need to make staged decompression stops in order to safely ascend back to the surface. Commonly, this decompression obligation will be accelerated through the use of ever-increasingly rich Nitrox mixes.
Why do Technical diving?
Technical divers are looking for extra adventure. There are added risks in this type of diving, and proper, thorough training is essential to be able to identify and manage these risks. To become a proficient tec diver requires mastering a new equipment configuration, fine-tuning basic dive skills and adopting a new approach planning and executing dives.
Tec divers take on much more personal responsibility, as well as being aware of the actions of all other members of their dive team.
Certainly, technical diving is not for everyone, but many people are drawn to it for a variety of different reasons. For some it is simply the allure of the depth, or the desire to explore where few if any have been before. For some, the appeal is simply to broaden their working knowledge of diving disciplines, equipment and physiology. Each to their own, reasons for becoming interested in tec diving vary from one individual to another.
What is the first step?
If you are curious about technical diving, then you have two options to begin:
Tec40 is the first level of PADI TecRec training.
The pre-requisites for the PADI Tec40 course are that you must be:
At least 18 years old
PADI Advanced Open water (or a comparable certification)
PADI Enriched Air diver (or similar)
PADI Deep diver (or similar – trained to dive to at least 40 metres)
The Tec40 does not include any depth progression – the candidates must already be qualified to dive to 40 metres. The focus of the Tec40 course is to introduce the new equipment configuration and orientate the diver to the disciplined ethos of technical diving. The candidate's knowledge of decompression theory will be developed, and the Tec40 student will learn the theory behind accelerated decompression.
At this stage, divers are allowed to take on some decompression, but this is limited in order to mitigate risk. At the Tec40 level, the student diver is trained to safely use up to 50% Nitrox for the decompression portion of the dive.
If you are curious about tec diving, but don't know if you'll really like it or not, then why not sign up for a Discover Tec session. Discover Tec provides you with an overview of the difference between recreational and technical diving, and gets you into confined water in order to test-dive the tec rig. You'll learn a few of the basic skills, such as gas sharing and shutting down the various cylinder valves (response to a gas leak). Mostly, the Discover Tec programme is an opportunity to glimpse through the keyhole into the world of tec, to see if you are intrigued to discover more.
Until 10th December 2019 we are offering The Discover Tec plus a bonus boat dive using the Tec diving rig at the same price as any two dives from your dive package. Click here to learn more about this offer