All for a Good Cause
Proudly supporting local charities
On 7th June 2019 there were (coincidentally) two completely separate charity events being held here in Tenerife. These fund raising events both featured a raffle, for which Aqua-Marina proudly donated some prizes.
Amigos de Gillian Banks is a charity which raises money for two local day centres which support under-privileged children in Tenerife.
Their target at this event was to raise €4,000. This money it to be put towards educational programmes such English lessons, as well as activities such including tennis and swimming lessons. Once per year they send one lucky child to the UK for a week of intensive English classes at a foreign language school; and their funds help to pay for that child's passport, travel costs and living expenses while they are there.
We have been very pleased to donate a prize of Discover Scuba Diving for 2 people (worth €224) to the lucky raffle winners.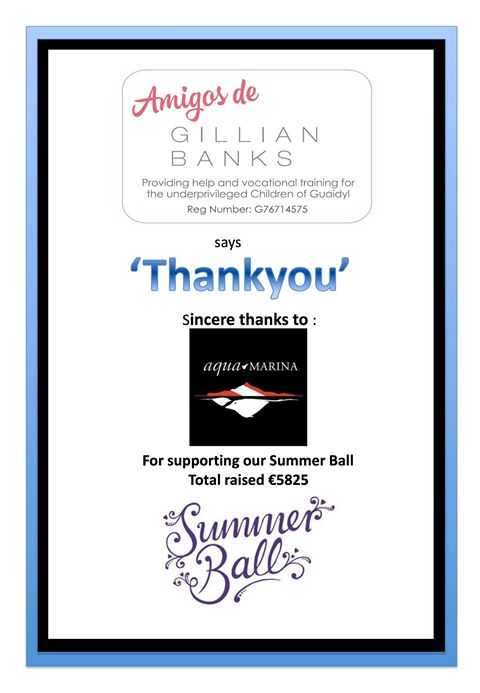 The event was a resounding success, and they managed to exceed their target by quite some margin, raising a total of €5,825!
If you are interested in making a donation to this excellent cause, you can get in touch with them through their Facebook page, here!
The Centro Ocupacional Rosas del Guanche is not a charity but a public service which focuses on helping those with mental illnesses or severe learning difficulties. They provide various services, from organising activities; holding occupational workshops; and providing support and counselling to their members and their member's families.
They are one of several services which are housed in the Centro de Diversidad Funcional El Mojón, who's facebook page can be seen here.
As a public service, they cannot accept donations, but we hope that they manage to raise lots of money with their dinner event on 7th June. To this aim, we have provided a prize for their raffle as well – a(nother) Discover Scuba Diving experience for 2 people!