Brad "Are-you-for-SCUBA?" Dahlgren
Divemaster Intern December '17 to February '18
Brad came to us from Wisconsin, USA, to intern at the dive centre in December 2017 starting with training to become a PADI Rescue Diver and becoming a PADI Enriched Air Diver and Deep Diver as well as, of course, a PADI Divemaster!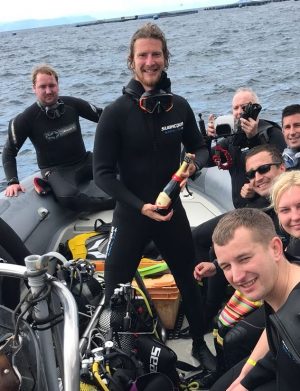 He also had a desire to explore the possibility of beginning a career in film making, and so we happily incorporated this interest into his Divemaster Internship, allowing him time and facilities to record the footage he required for making his first movie.
Here's what he had to say about his time with diving in Tenerife with Aqua-Marina:
"I completed my Divemaster internship in February 2018 and couldn't be happier with the education I received! The experience I had mirrored what a certified Divemaster would do on a daily basis which will certainly benefit me when I apply for dive jobs or pursue my IDC. The staff at Aqua Marina has worked in dive jobs all over the world and their expertise shows.  If I had to do it all over again I would choose Aqua Marina for my divemaster internship without hesitation."
Since completing his programme with us, he wanted to keep the ball rolling and so headed directly out to Indonesia where he planted himself in the beautiful Raja Ampat to enjoy some of the finest diving that there is – we aren't at all jealous!
Divemaster Intern
The PADI Divemaster programme can be completed in a little over a week. This is a professional qualification, and with this licence you will be qualified to lead divers underwater, conduct certain PADI Programmes independently and assist on all others.
The responsibilities of a Divemaster should not be taken lightly – you will become responsible for the safety and enjoyment of your clients, in a harsh and unforgiving environment where communication is severely limited and emotions can be easily concealed by dive equipment.  For this reason it is strongly urged to complete this training as part of an 'internship', which provides you with bountiful hands-on experience with real diving customers/students.
There are several dive shops around the world, as well as many here in Tenerife who specialise in Divemaster Internship programmes, in some cases exclusively.  Although this may sound like a good idea in fact it isn't: the one thing missing from such operations is exactly the reason why the internship is beneficial – the real divers!
Aqua-Marina are one of the busiest dive centres in Tenerife and have many customers every day of the year. With our dive boat we access several dive spots around the South of Tenerife very quickly and easily, providing you with varied diving in a multitude of different conditions, always with real divers.  We run all PADI programmes from beginner to professional and almost always have at least one such programme running so you will get to experience diving with real dive students as well!
Lastly, since we do not 'focus' on Divemaster training to the exclusion of all other activities, we only have limited spaces available for our intern programme. This means that you will always receive close supervision from our dedicated team of multi-national and highly experienced, motivated instructors.
If you'd like any further information about our Divemaster programmes, please contact us at
info@aqua-marina.com