Divemaster Intern Testimonial
A Day in the life of an Aqua-Marina Intern – Jen Wadman
I am currently working as a Divemaster Intern at Aqua-Marina Dive Centre. Having learned to dive in Tenerife several years ago, I've returned to the island for most of the dives that I've made. In that time I've experienced a few different dive schools (some better than others) but I'm really glad that I came back to Aqua-Marina to become a Divemaster Intern.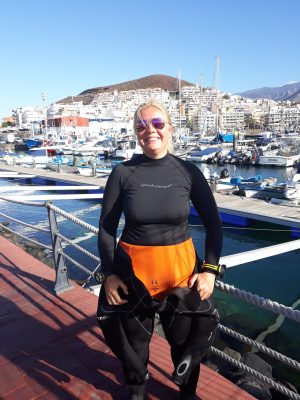 I'm having an amazing time and I'm learning so much. If you are thinking of doing it then I can't reccommend it highly enough!  To give you some idea of what to expect I've written a rough day-in-the-life to give you an impression of what is involved.
8.30 – Arrive at the centre and help the other Divemaster Interns and Instructors to open the shop, then check the day's plan to see where you are needed. Don't forget to set up your own gear and make a coffee!
9.00 – Clients arrive. You meet and greet and assist in selecting and preparing client gear. We see everything from Discover Scuba Diving (DSD) to rebreather divers. For a DSD you prep their equipment entirely, tech divers normally just need cylinders and perhaps a cup of tea. Then we conduct dive briefings, some you will lead under the guidance of the Instructors.
09:30 – Time to go to the sea! This can be by RIB (mostly), or a shore dive in Los Christianos bay for training. On the boat you prep the weight belts, and after a short journey (about once a week I have seen dolphins) we arrive at the dive site. The Skipper will help you to set the anchor, explain how he positioned the boat at the dive site, and other considerations, such as the current.
10.00 – The first dive of the day! You could be leading, minding the back, assisting with a DSD, having fun on a recreational dive or more. (All under supervision from instructors when needed, no worries). The dive sites are varied, with lots to see, my favourite being Palm Mar Wall, where the Green Turtles live .
11.30 – Surface interval. There is a café just outside the harbour, where we take our surface interval, grab some food and talk to the clients. This is a really nice opportunity to research your next dive adventure, as the people who come to Aqua Marina have often dived around the world.
12.30 – The second dive of the day! Same drill as the first, but the boat will always go to a different dive site from the morning. Things to look out for in Tenerife include, angel sharks, a variety of rays, massive shoals of barracuda or rhoncadores, moray eels, sea horses and turtles. If you are deeper you can also see black coral, which looks like underwater Christmas trees.
14.30 – Back to the centre, time for debriefing, kit cleaning, helping clients to log dives etc.
15.00 – Cylinder filling and study time. The instructors have a wealth of knowledge and are happy to share it with you. I have seen different brands of regulators disassembled, BCDs, cylinder valves, side mounts – anything you are interested in there will be someone happy to explain it to you. We also learn how to fill air and EANx cylinders. Alternatively, you can jump in the pool and practice your PADI demonstration skills.
17.00 – Home (beer) time.
22.00 – BED TIME, seriously, I can't make it past 22.30 and stay conscious! Loving every day