Divemaster Internship: Gert-Jan
Professional Diver Training programme
My search for a new challenge in life and a change in direction got me considering the life of the Divemaster. I began searching the internet for professional diver training programs and found that Tenerife was certainly a good place for this type of thing.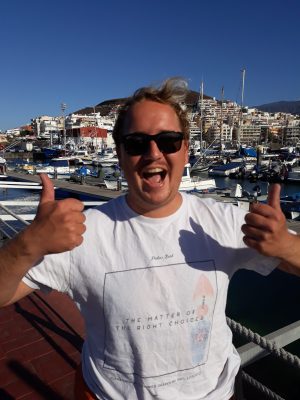 Being a rookie in the diving scene, it wasn't an easy choice to give it all up back home. Harder still was the search for the right dive shop – it took a while before I settled on Aqua-Marina. I'm now four weeks into the programme and I am SUPER happy with my choice!
The days are long and the work is hard, but the experience I've gained has been invaluable. The instructors all have years of experience in the Industry and they are not shy to share their knowledge and experiences with us, and thanks to this support my progress is sky-rocketing. It's amazing to feel yourself getting better at something you enjoy – especially this quickly.
If you are thinking of working in the dive industry then the internship is the way to do it. Without this, I still wouldn't have a clue about how a dive shop works.
Apart from the diving, the surrounding area is really fantastic. El Medano – were us Interns are staying – is the perfect place to relax after a busy day in Las Americas. That said, it is not a sleepy town! It is a mecca for wind and kite surfers like me, and the town has a very cool atmosphere.
Combine all this with the amazing Canarian weather and the low cost of living here and you have a recipe for a pretty amazing life!
To be continued…